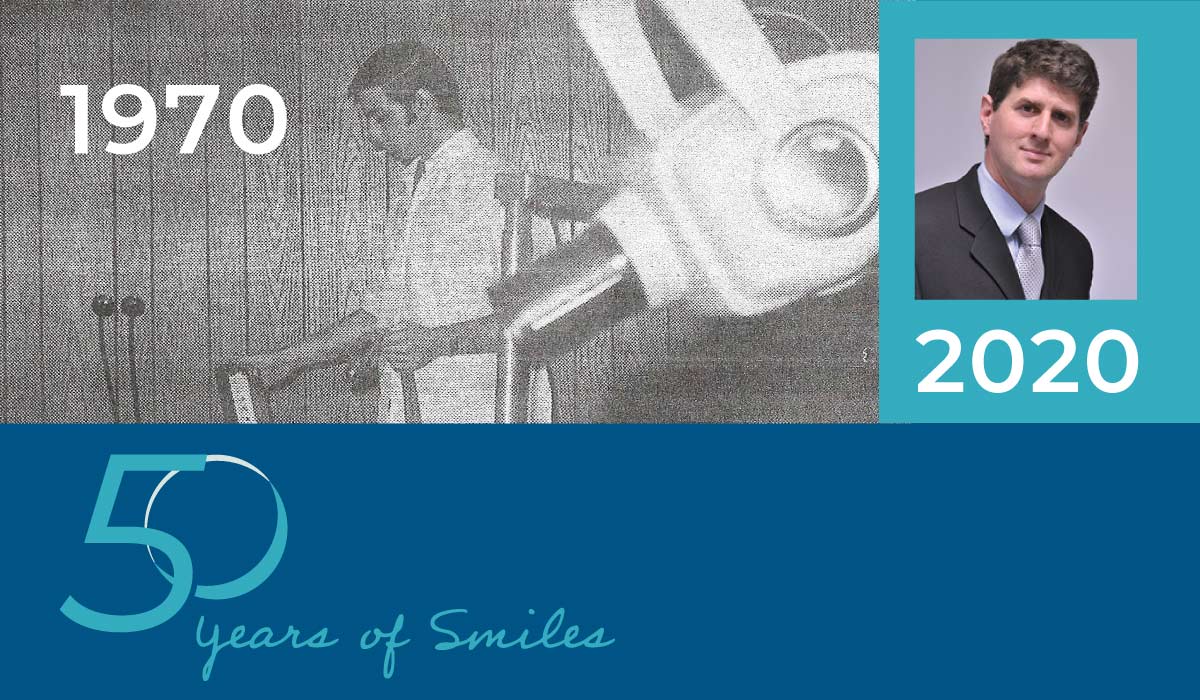 The Port Jervis practice rolls out multiple patient-centric initiatives to celebrate the community's support over the years.
November marks the 50th Anniversary of the Port Jervis-based dental practice, Aesthetic Family Dentistry located at 155 East Main Street. In celebration of this achievement, Dr. Seth Horn, DMD, is launching a number of patient-centric initiatives throughout the year to celebrate both new and old patients.
Dr. William B. Horn opened the practice in 1970 after practicing in Brooklyn, NY and California during his tenure in the United States Army. Originally located at 24 Front Street because the people of Port Jervis were, "warm and receptive," the practice outgrew its original home and Dr. Horn bought the building at 155 East Main Street and moved the practice.
Over the years, his oldest son Seth decided to follow in his father's footsteps and joined the practice in 1997 after finishing his Doctor of Dental Medicine at Tufts School of Dental Medicine in Boston, MA. Dr. Seth Horn, DMD, learned the ins and outs of the business and honing his dental abilities at Aesthetic Family Dentistry. At the end of 2005, Dr. William Horn was ready to retire and Dr. Seth Horn was ready to take the reins. In 2006, Aesthetic Family Dentistry became a second-generation family owned and operated business in Port Jervis.
Since then, Dr. Seth Horn, DMD has transformed the practice with multiple doctors and dental specialties, a near total remodel to the building, and has continued to add the latest technology and practices to dental care.
"We are really excited to be celebrating this momentous occasion, despite the pandemic," said Dr. Seth Horn, DMD. "Our original plans were a little bit different, but with in-person contact being limited, it helped push us to get creative with how we are going to celebrate and thank our patients for allowing us to be a part of their dental health and care all these years. My family, team and I are truly grateful for the community and their support of this practice for the last 50 years. I, personally, am looking forward to many more years to come."
Transitions and Highlights of the Practice
The practice has stayed true to its original mission to provide comfortable, state of the art dentistry to all of its patients. In doing so, the practice has eliminated all metal from dentistry work, switched to digital x-rays, and now has the capabilities to make crowns in office. Other highlights over the last 50 years in the practice include offering a variety of cosmetic services in office including veneers, Invisalign instead of traditional braces, and implants, but overall, providing more efficient and comfortable ways of doing dentistry.
The Future of The Practice
Staying the course of the last 50 years, Dr. Seth Horn will continue to stay true to his father's original mission and vision of the practice to provide a comfortable atmosphere for patients while staying on top of the latest dental advancements in the industry.
In line with this mission, Aesthetic Family Dentistry will announce in early 2021 a new feature to its services with the addition of yet another technological advancement. The practice will be the first in the tristate area to have and employ this technology in office.
50 Years of Smiles Celebrations
Kicking off Aesthetic Family Dentistry's anniversary celebration is a Facebook Live announcement of the contests and giveaways by Dr. Seth Horn, DMD, on Tuesday, November 3rd at 1 p.m. (@AestheticFamilyDentistry). In addition to the contests and giveaways, Dr. Horn will also have a special guest join him to ring in the excitement.
Contests + Giveaways Launching Nov. 3rd
$50 for 50 – the first 50 new patients will receive a $50 gift card
50 Years of Smiles Video Contest – patients can submit funny, zany, and creative testimonials to Aesthetic Family Dentistry for a chance to win $1,000
For a complete list of 50 Years of Smiles contests and giveaways, along with their rules, please visit AestheticFamilySmiles.com.
Aesthetic Family Dentistry offers services in general, pediatric, periodontal and cosmetic dentistry, as well as Botox for cosmetic use. The office is open Monday, Tuesday and Thursday from 9 a.m. to 6 p.m., Wednesday from 9 a.m. to 8 p.m. and Friday from 9 a.m. to 5 p.m.
For more information on dental services, or to schedule an appointment, please call (845) 209-2500 or visit www.aestheticfamilysmiles.com.