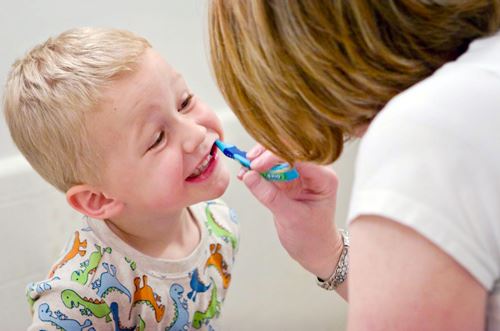 Fluoride is a mineral that is found naturally in many foods and water. We rely on it to help develop healthy teeth and protect against tooth decay—so much so that extra fluoride is added to drinking water across nearly the entire country. It's so effective that half of all children from 5 to 17-years-old who drink fluoridated water have never had a cavity.
But despite its benefits, you can have too much of a good thing when it comes to fluoride.
Fluorosis is a condition caused by the intake of too much fluoride while the teeth are being formed. It's not a disease but a cosmetic condition that affects the appearance of teeth. Fluorosis can cause white or brown discoloration on tooth enamel or irregularities on the tooth surface. The effects are permanent and may darken over time, but often they're so mild that only a dental professional can detect them.
Typically only children under 8-years-old are at risk of fluorosis since it can only occur while teeth are developing.
Causes of Fluorosis
A major cause of fluorosis comes from the misuse of fluoride-containing dental products, like toothpaste or mouthwash. Consumption of these products is usually accidental, but some kids enjoy flavored toothpastes so much that they eat them or intentionally swallow after brushing. Products containing fluoride should always be kept out of reach of children and used under adult supervision. As a parent, you may also want to buy flavors that discourage swallowing.
Another cause of fluorosis is the misuse of fluoride supplements—either by taking an amount more than is prescribed, or unnecessarily taking them when tap water, fruit juices, and other sources already provide enough fluoride. Only children who live in an area without fluoridated drinking water should take supplements under the direction of a dental professional.
Other causes of fluorosis include:
Fluoride-fortified fruit juices
Fluoride-fortified soft drinks
High levels of fluoride in drinking water
Fluorosis doesn't cause tooth decay or affect the function of the teeth, but its effects can be embarrassing. Treatments like tooth whitening, bonding, crowns, and veneers can significantly improve or restore the look of teeth.
If you suspect or notice signs of fluorosis, like white spots or streaks, or other discoloration on the surface of the tooth, contact Aesthetic Family Dentistry at our Port Jervis office. We can discuss the proper use of fluoride-containing products and possible treatment options for a healthy, beautiful smile.